Capable and reliable, the XL is ready to work. The new black grille and halogen daytime running lamps showcase the global Built Ford Tough design. New coast-to-coast dashboard increases the sense of space and width in the cabin. The integrated 10-inch centre LED touchscreen is hi-tech with a tough, truck-inspired look.
---
Model specification
ENGINE
Displacement (cc) : 2000
Fuel System : Direct injection
Fuel type : Diesel
DIMENSIONS
Dimensions (Lxwxh) in mm : 5350x2208x1886
Ground clearance (mm) : 235
Wheelbase (mm) : 3270
TRANSMISSION
Gearbox : Manual, Automatic
Transmission : Part time manual 4x4
WEIGHT/CAPACITIES
Curb weight (kg) :
Fuel tank capacity (L) :
WARRANTY
Manufacturer Warranty :
Retail Network : Ford
Loading...
---
Models available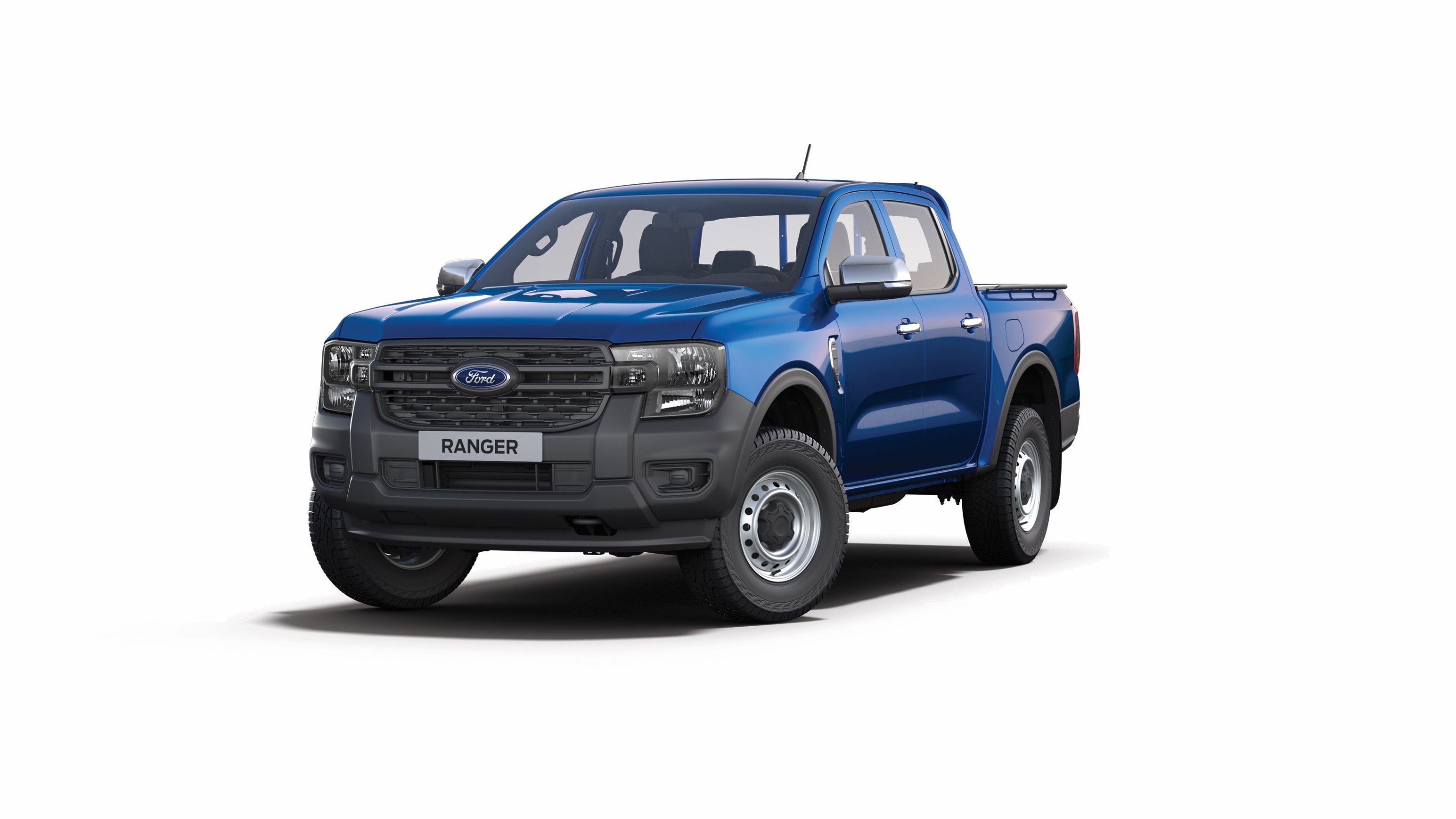 DOUBLE CAB 2.0D MT6 4WD BASE

Air conditionning

Airbags

Electronic stability control

Power windows

Spare wheel
Technical Specifications
RANGER BASE / XL DOUBLE CAB 2.0D MT6 4WD BASE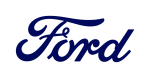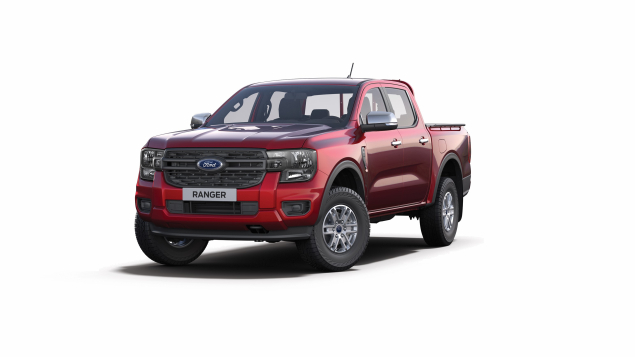 Technical Specifications
ENGINE

Displacement (cc)
2000
Engine Type
Cylinder in line
Fuel System
Direct injection
Fuel type
Diesel
Max power HP/rpm
170
Max torque Nm
405
Number of cylinders
4

BODY

Body style
Pick-up double cab
Number of doors
4 doors

DIMENSIONS

Dimensions (Lxwxh) in mm
5350x2208x1886
Ground clearance (mm)
235
Wheelbase (mm)
3270

TRANSMISSION

Gearbox
Manual
Transmission
Part time manual 4x4

WEIGHT/CAPACITIES

Additional fuel tank capacity (L)
Curb weight (kg)
Fuel tank capacity (L)
Gross vehicle weight (kg)
Number of seats

BRAKES

Front brake
Ventilated discs
Parking brake
Manual
Rear brake
Drums

SUSPENSIONS

Front suspension
Double Wishbone with Coil Spring
Kinetic Dynamic Suspension System (E-KDSS)
Rear suspension
Leaf

TYRES

Tyre dimension
255/70 R16

PERFORMANCES

Acceleration (sec) : 0 to 100km/h
Max speed (km/h)

FUEL CONSUMPTION

Consumption mixed cycle (l/100km)
Equipments
ACTIVE SAFETY

ABS
Yes
Child lock
Yes
Electronic stability control
ESP
Emergency warning triangle
Yes
Headlamps
Halogen

INTERIOR & COMFORT

Air conditionning
Manual
Central armrest
Rear
Day/night automatic rearview mirror
Yes
Driver seat
Height adjustable
Loud speakers
4
Power windows
Front
Sunglasses holder
Yes
Touchscreen
10 "
Upholstery
Fabric

PASSIVE SAFETY

Airbags
Driver, Passenger
Headrests
Rear
Seatbelts – Rear
3 points
Spare wheel
Steel

EXTERIOR

Door handles
Black
Front bumpers
Body colour
Front grill
Black
Rear bumpers
Body colour
Suspension
Standard
Towing hook
Rear, Front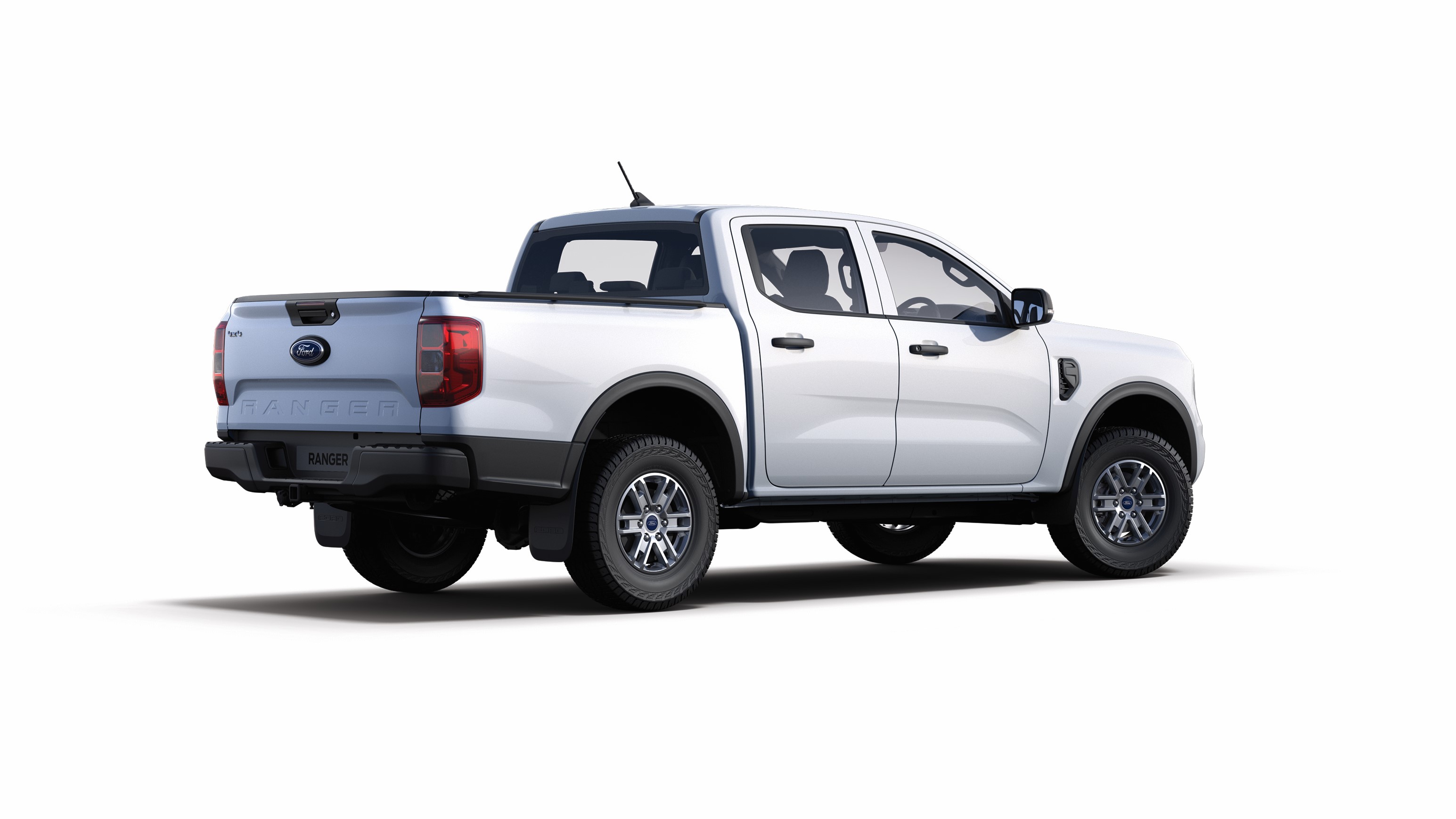 DOUBLE CAB 2.0D MT6 4WD XL

Air conditionning

Airbags

Connections

Downhill assist control

Electronic stability control

Hill-start assist control

Power windows
Technical Specifications
RANGER BASE / XL DOUBLE CAB 2.0D MT6 4WD XL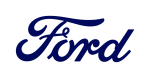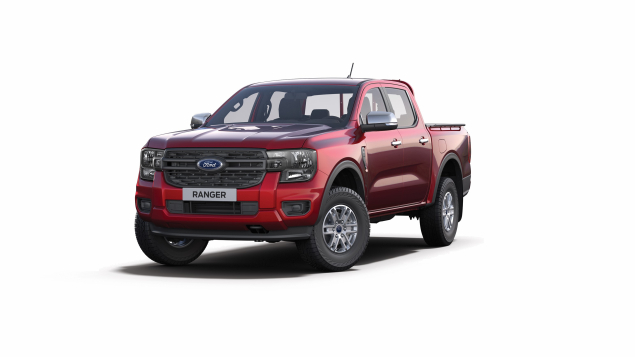 Technical Specifications
ENGINE

Displacement (cc)
2000
Engine Type
Cylinder in line
Fuel System
Direct injection
Fuel type
Diesel
Max power HP/rpm
170
Max torque Nm
405
Number of cylinders
4

BODY

Body style
Pick-up double cab
Number of doors
4 doors

DIMENSIONS

Dimensions (Lxwxh) in mm
5370x1918x1884
Ground clearance (mm)
237
Wheelbase (mm)
3270

TRANSMISSION

Gearbox
Manual
Transmission
Part time manual 4x4

WEIGHT/CAPACITIES

Additional fuel tank capacity (L)
Curb weight (kg)
2227
Fuel tank capacity (L)
80
Gross vehicle weight (kg)
3230
Number of seats
5

BRAKES

Front brake
Ventilated discs
Parking brake
Manual
Rear brake
Drums

SUSPENSIONS

Front suspension
Double Wishbone with Coil Spring
Kinetic Dynamic Suspension System (E-KDSS)
Rear suspension
Leaf

TYRES

Tyre dimension
255/70R16

PERFORMANCES

Acceleration (sec) : 0 to 100km/h
Max speed (km/h)

FUEL CONSUMPTION

Consumption mixed cycle (l/100km)
Equipments
ACTIVE SAFETY

ABS
Yes
Child lock
Yes
Downhill assist control
Yes
Electronic stability control
ESP
Emergency warning triangle
Yes
Headlamps
Halogen
Hill-start assist control
Yes

EXTERIOR

Adjustable side mirrors
Electric
Door handles
Black
Folding side mirrors
Manuals
Front bumpers
Body colour
Front grill
Black
Rear bumpers
Body colour
Suspension
Standard
Towing hook
Rear, Front
Wheels
Alloy

INTERIOR & COMFORT

Air conditionning
Manual
Car mat
Yes
Central armrest
Rear
Connections
Voice control, Android Auto, Apple CarPlay, Bluetooth, USB
Day/night automatic rearview mirror
Yes
Driver seat
Height and reach adjustable
Front seats
2
Loud speakers
4
Plug 12V
1
Power windows
Front, Rear
Steering wheel
Urethane
Sun visor
Yes
Sunglasses holder
Yes
Touchscreen
10 "
Upholstery
Fabric

PASSIVE SAFETY

Airbags
Driver, Passenger
Headrests
Rear
Height adjustable lights
Manual
Seatbelts – Rear
3 points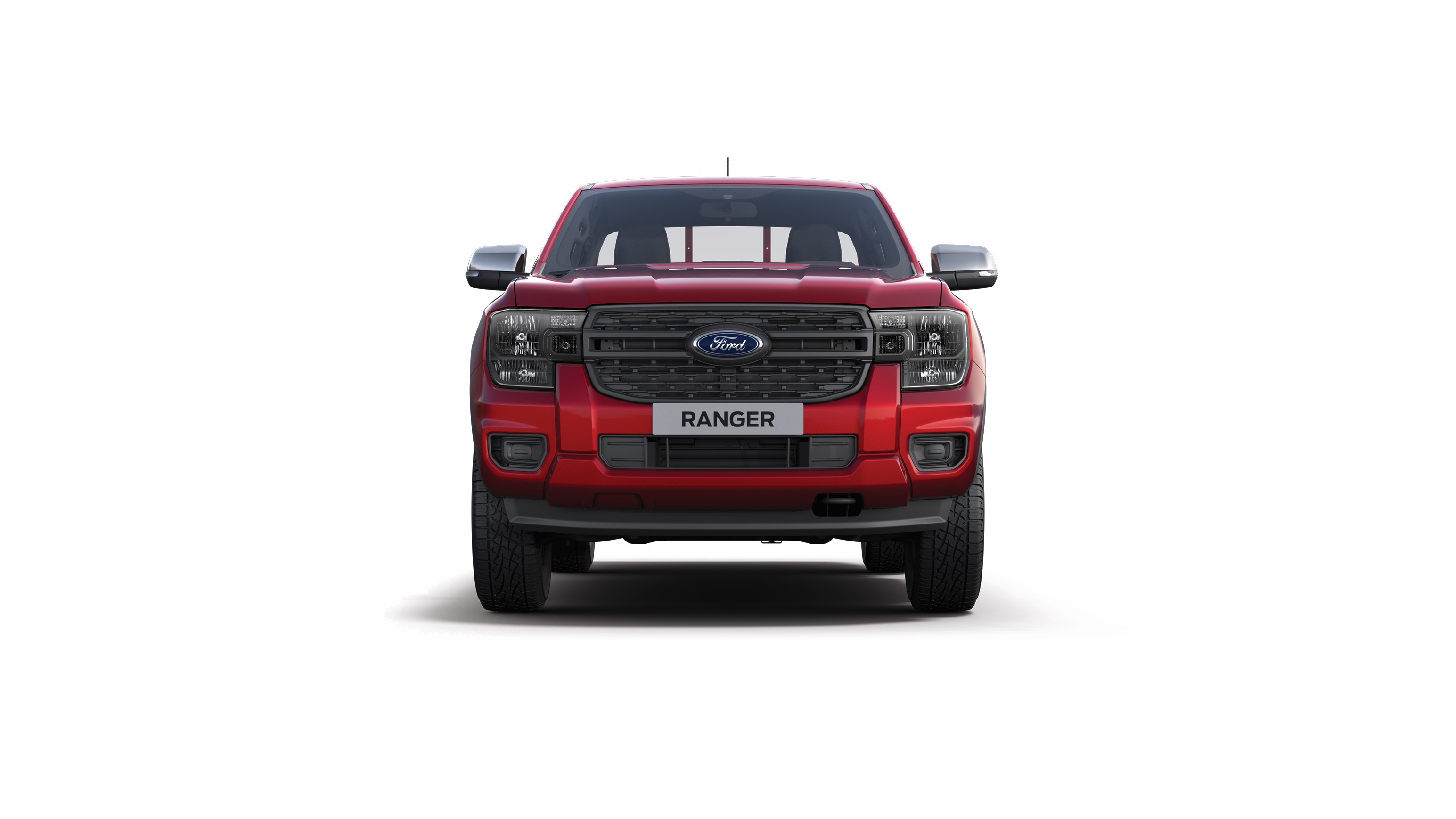 DOUBLE CAB 2.0D AT6 4WD XL

Air conditionning

Airbags

Connections

Downhill assist control

Electronic stability control

Hill-start assist control

Power windows
Technical Specifications
RANGER BASE / XL DOUBLE CAB 2.0D AT6 4WD XL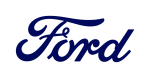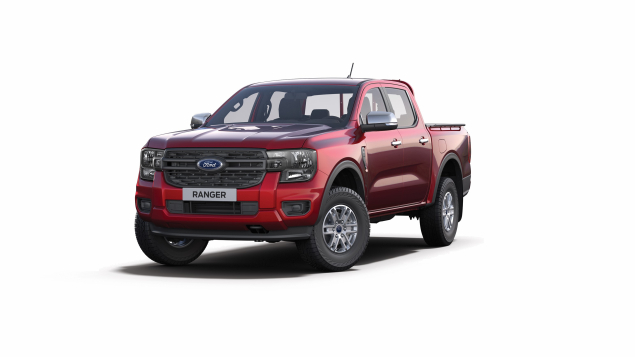 Technical Specifications
ENGINE

Displacement (cc)
2000
Engine Type
Cylinder in line
Fuel System
Direct injection
Fuel type
Diesel
Max power HP/rpm
170
Max torque Nm
405
Number of cylinders
4

BODY

Body style
Pick-up double cab
Number of doors
4 doors

DIMENSIONS

Dimensions (Lxwxh) in mm
5370x1918x1884
Ground clearance (mm)
237
Wheelbase (mm)
3270

TRANSMISSION

Gearbox
Manual, Automatic
Transmission
Part time manual 4x4

WEIGHT/CAPACITIES

Additional fuel tank capacity (L)
Curb weight (kg)
2227
Fuel tank capacity (L)
80
Gross vehicle weight (kg)
3230
Number of seats
5

BRAKES

Front brake
Ventilated discs
Parking brake
Manual
Rear brake
Drums

SUSPENSIONS

Front suspension
Double Wishbone with Coil Spring
Kinetic Dynamic Suspension System (E-KDSS)
Rear suspension
Leaf

TYRES

Tyre dimension
255/70R16

PERFORMANCES

Acceleration (sec) : 0 to 100km/h
Max speed (km/h)

FUEL CONSUMPTION

Consumption mixed cycle (l/100km)

WARRANTY

Manufacturer Warranty
Retail Network
Ford
Equipments
ACTIVE SAFETY

ABS
Yes
Child lock
Yes
Downhill assist control
Yes
Electronic stability control
ESP
Emergency warning triangle
Yes
Headlamps
Halogen
Hill-start assist control
Yes

EXTERIOR

Adjustable side mirrors
Electric
Door handles
Black
Folding side mirrors
Manuals
Front bumpers
Body colour
Front grill
Black
Rear bumpers
Body colour
Suspension
Standard
Towing hook
Rear, Front
Wheels
Alloy

INTERIOR & COMFORT

Air conditionning
Manual
Car mat
Yes
Central armrest
Rear
Connections
Voice control, Android Auto, Apple CarPlay, Bluetooth, USB
Day/night automatic rearview mirror
Yes
Driver seat
Height and reach adjustable
Front seats
2
Loud speakers
4
Plug 12V
1
Power windows
Front, Rear
Steering wheel
Urethane
Sun visor
Yes
Sunglasses holder
Yes
Touchscreen
10 "
Upholstery
Fabric

PASSIVE SAFETY

Airbags
Driver, Passenger
Headrests
Rear
Height adjustable lights
Manual
Seatbelts – Rear
3 points
---
Gallery